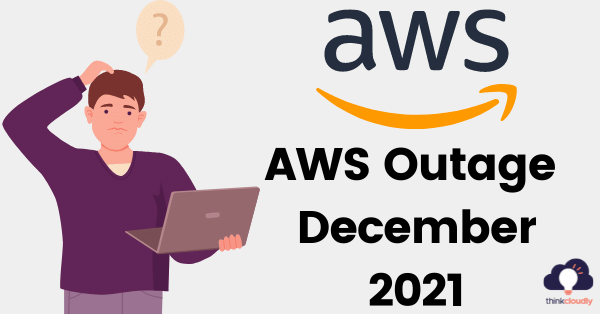 The recent AWS outages have been frustrating for many. If you'd like to know why this is happening and how to avoid it , read on!
Summary
December started with a bang thanks to the abundance of holidays. This included an increase in online retail sales, packages flooding delivery services, and high traffic on websites across America! But then something happened…OutAGES.
Amazon Web Services (AWS) US East 1 region went down in mid-December which impacted many companies who rely heavily upon this service for their business -all over America and Europe.
AWS Outage 2021 Details
There have been two outages so far in December. There was one on 7th December 2021 and one on 15th December 2021.
Both incidents involved the AWS network, where service reachability was being blocked by congestion. In the case of the December 7th outage, traffic loss owing to congestion was originating between AWS' main and internal management networks. The situation on 15th December occurred inside their main network, where traffic from sources both on and off AWS was being discarded.
In the first case on 7th December, AWS devices for critical traffic routing were overwhelmed. In the second outage, some network functions in the data path were not working at full capacity. This prevented apps and services from reaching their intended audience.
Many problems have occurred in the past when a network's control plane has not functioned correctly, and things have not gone as planned.
These recent events do not appear to be repeating this pattern. Even if the control plane is down, it is still possible to route traffic correctly.
What Services are affected?
AWS is the largest cloud provider globally, so when it goes down, it takes a lot of websites with it. Over 11,000 websites were down – from AWS services, Amazon's network of brands, and seemingly unconnected sites including Netflix, Disney+ Delta airlines, and Instacart.
This outage affected several AWS services, including CloudWatch, Gateway API, Secure Token Service (STS), container services like Fargate, ECS, and EKS. The popular EC2 service provides a virtual server capacity.
The API request did not affect running instances and containers, but they could not be used to modify or start new ones.
Amazon's delivery people were unable to deliver items due to a problem with their custom-built app that specified which packages go whereas the servers could not communicate.
Alexa-powered speakers, lightbulbs, and smart gadgets suddenly stopped working.
Netflix had a massive drop in visitors at the same time; day traders on Robinhood also faced issues. Because, unbeknownst to many, AWS maintains so much of the internet, it's difficult to isolate an area that wasn't affected by the outage.
While Amazon has issued an apology and vowed to do better, this latest outrage is sure to raise doubts about AWS's reliability.
It's not just this week's outage that has some people concerned about AWS. The service has had a history of outages, including a major outage in 2016 that affected companies like Netflix and Reddit.
So what should companies be doing? Should they be moving away from AWS?
 That's not really an option, as AWS is the dominant player in the cloud market. Instead, companies need to be prepared for outages and have backup plans in place. That means having alternative services ready to go if AWS goes down.
It's also important to keep an eye on AWS's reliability and make sure that you're only using services that are reliable. If an outage does happen, you don't want it to take your whole business down with it.
It's not like only AWS had an outage, recently on  1 Apr 2021, Microsoft Azure was also down for some time. AWS is a excellent service, but no service can be perfect; they become perfect with experience. Companies need to be aware of the risks and have backup plans in place in case of an outage.
Conclusion
It's important to know that AWS is also one of the leading providers of cloud computing services. This outage has caused many companies who rely heavily on this service for their business, all over America and Europe, to have significant downtime. To learn more about how you can best protect your company from outages like these, please reach out with any questions or concerns so we can help guide you through your options. You can also check our other blogs and training courses to learn and explore cloud technologies.