HIGHLIGHTS
Over 3,000 users were unable to access Microsoft's Teams app.
Time of issue alert: July 21, 2022, 01:14 UTC.
As a result of a recent deployment with a broken connection to a storage service, resulted this issue.
In the admin center, you can find the latest updates on the outage under TM402718.
You can check status.office.com for updates if you can't access admin center.
Introduction to Microsoft Teams Outage 2022
As the number of online services used by consumers and businesses continues to increase, so too do the problems caused when they go down, either temporarily or permanently. It seems that Microsoft has experienced one of these problems with its Teams app, which has been unavailable to users throughout much of the day today, July 21st 2022 at 01:14 UTC. In a statement released by the company after 72 minutes, it said that it had identified an issue impacting many users and it was working as quickly as possible to restore full service back to all affected users as soon as possible.
In the midst of the Microsoft Teams outage that left thousands of users unable to access the Office 365 app, another pressing concern arose with the simultaneous Microsoft Forms outage. This unfortunate combination of service disruptions not only hindered collaboration and communication but also disrupted critical data collection and survey processes for many organizations, underscoring the far-reaching impact of such technical setbacks on businesses' daily operations and productivity.
An outage reporting website reported Microsoft Teams down 4,800 times on Thursday.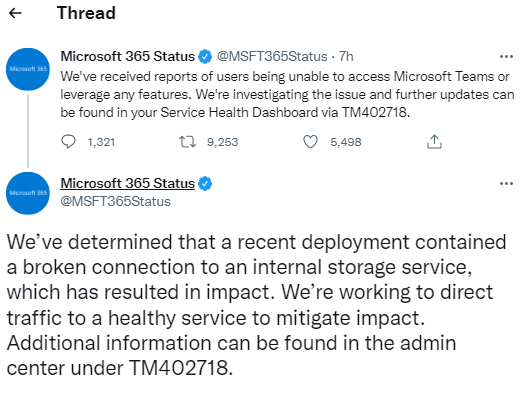 What is Microsoft Teams app?
Microsoft Teams app is a cloud-based collaboration tool that allows users to chat, share files, and work on projects together. The app was launched in 2016, and since then, it has become increasingly popular among businesses and organizations. It's a SaaS (Software as a service) application for collaboration, meetings, file and app sharing, and even emojis! All in one place, all in the open, all accessible.
 According to Microsoft, Teams has over 270 million monthly active users. During the COVID-19 pandemic, when many people worked from home, there was a high demand for remote business-oriented tools, like Teams.
Why did Microsoft Teams go down?
On Thursday, July 21st 2022 several users reported that they are unable to access the Microsoft Teams app as per Downdetector.com 3000 users got affected. The Microsoft corporation gave the details of this outage on status.office.com:
There was an issue with a recent deployment involving a broken connection to an internal storage service, resulting in users being unable to access or use numerous Microsoft 365 applications.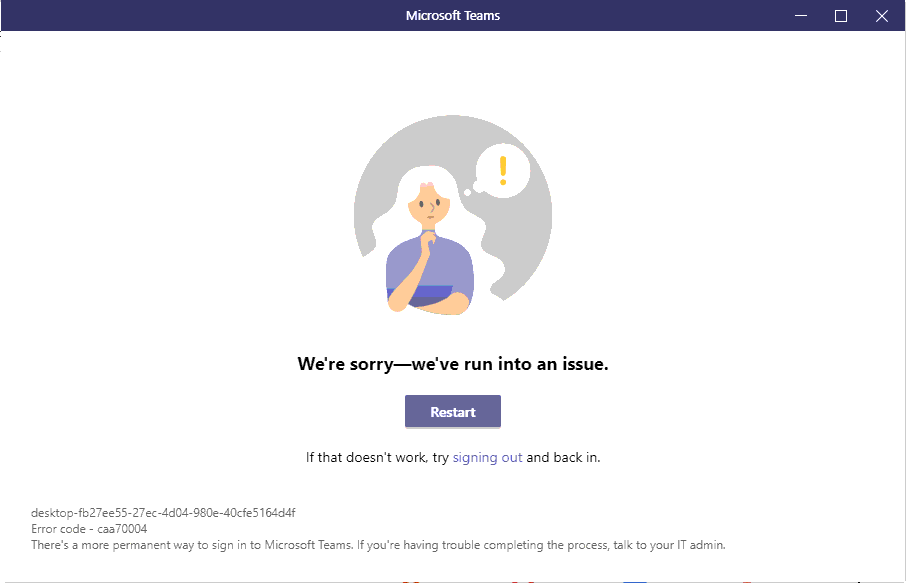 Current Status:
Almost all service features have recovered, but a few still need attention. To ensure the service health does not fluctuate during the remaining actions, Microsoft will monitor the service health as new regions enter business hours.
The outage seems to be global, however, Microsoft might have been fortunate that it occurred after the working day had ended in the US and very late into the night in Europe.
Most of the reactions The Register can find relate to Asia-Pacific, where a horse-racing association in Australia has been disrupted.
Build Your Career as a
Azure Cloud Architect
Boost your earning potential with Azure expertise. Explore our certified Azure Courses for a high-paying career
What services, features, or apps were impacted?
There are a number of issues that users may be experiencing. There is also the possibility of additional functionality or features being impacted. Below is the list of apps and their related services that got impacted as per Microsoft :
Microsoft Teams (Access, chat, and meetings)
Exchange Online (Delays sending mail)
Microsoft 365 Admin Center (Inability to access)
Microsoft Word  (Inability to load)
Microsoft Forms (Inability to use via Teams)
Microsoft Graph API (Any service relying on this API may be affected)
Office Online (Microsoft Word access issues)
SharePoint Online (Microsoft Word access issues)
Project Online (Inability to access)
PowerPlatform and PowerAutomate (Inability to create an environment with a database)
Autopatches within Microsoft Managed Desktop
Yammer (Impact to Yammer experiments)
Windows 365 (Unable to provision Cloud PCs)
As per our understanding, this would also have impacted cloud services indirectly as Microsoft Teams is a SAAS application and it is available in Microsoft Azure.
As part of Microsoft's efforts to help SMBs, three new features were released last month on Teams. There is a new feature called "Schedule Meetings on Mobile," a new capability called "Chat with Anyone," and an integration with Google Calendar.
Summary

:
Issue: Multiple Microsoft 365 services may not be available to users.
Impact: Around 3000 users were impacted.
Start time: Thursday, July 21, 2022, at 1:14 AM UTC
Scope: Microsoft 365 users may be affected by this issue if they attempt to use any of the listed services.
More Information: The users found difficulties in accessing various Office 365 applications majorly Microsoft Teams, Sharepoint, Exchange, Ms. Word, Forms, etc..
Current status: Currently, most service features have recovered while only a few still require attention.
Potential root cause: The connection to an internal storage service has been broken during a recent deployment, which is preventing users from accessing certain Microsoft 365 apps and functions.
Final Thoughts:
The Microsoft Teams outage was a nightmare for those affected. It just goes to show how reliant we've become on cloud-based applications. Other big technology companies have also experienced outages in the past year, with a near six-hour outage at Meta Platforms last October keeping WhatsApp, Instagram, and Messenger out of reach for billions of users. If you're thinking about a career in cloud computing, Azure or AWS are two great options to consider. Check out our career-oriented courses to learn more about these platforms and others.