If you have been working in the IT industry, or at least following it closely, you must have noticed that Google and Amazon are facing off in an attempt to dominate cloud services. The battle has not yet been decided but when it comes to public cloud providers, Amazon Web Services (AWS) and Google Cloud Platform (GCP) dominate most of the other offerings by both third parties and smaller players in this space.
Comparing Costs: GCP vs. AWS – A Multifaceted Analysis
The comparison between GCP (Google Cloud Platform) and AWS (Amazon Web Services) in terms of cost is multifaceted and depends on various factors. While GCP often touts competitive pricing, determining whether it is cheaper than AWS requires a thorough assessment of your specific needs, services used, and usage patterns. Both platforms offer pricing calculators to estimate costs, and the actual cost difference can vary based on the types of services utilized. Ultimately, the decision between GCP and AWS extends beyond cost considerations to encompass factors such as service offerings, geographic presence, ease of use, and existing infrastructure. Understanding these nuances is essential in making an informed choice between GCP and AWS based on your organization's unique requirements.
In 2022, when comparing AWS and GCP services, it's crucial to consider factors beyond just features and performance. While both cloud providers offer a comprehensive suite of services, GCP vs. AWS pricing has been a notable point of discussion. Many businesses are increasingly exploring whether Google Cloud is cheaper than AWS. It's important to note that pricing can vary depending on specific usage patterns and resource configurations. While GCP may offer competitive pricing in some scenarios, AWS also provides various pricing models and discounts that can make it cost-effective for certain workloads. Ultimately, the choice between Google Cloud and AWS should be driven by your organization's unique requirements and cost analysis to determine which cloud provider aligns best with your budget and performance needs.
AWS vs. GCP (Google Cloud Platform) — The Basics
Let's take a look at how these giants are faring in comparison with each other in the year 2023.
AWS – Amazon Web Services
Amazon was the first major cloud provider, and so has the most experience of any other provider in the cloud. This is due to its greater longevity as a cloud provider, but also to its ability to accumulate more customers, who tend to place a higher level of trust in the company's reliability.
 In 2006, Amazon Web Services was launched. AWS provides a collection of remote computing services that make up cloud computing, including Elastic Compute Cloud (EC2), Simple Storage Service (S3), and so on.
From its debut until 2014, it had only been possible to use Amazon's web services through its Product Advertising API or Payments API products however, by mid-2014 there were at least 50 household name companies using AWS for their internal infrastructure. This included both enterprise-level firms and educational institutions.
In early 2015, Amazon indicated that more than 140,000 organizations were using AWS. By 2016 there were more than 1 million active customers, mostly within enterprises.
GCP – Google Cloud Platform
Google Cloud Platform, also known as Google Compute Engine or simply GCE, is a cloud computing service created by Google and designed for developers. The platform provides users with features that allow them to deploy applications on remote servers hosted by Google, as well as manipulate them.
It was launched in 2011 as an Infrastructure-as-a-Service (IaaS) product. Its main competitors are Amazon Web Services (AWS) and Microsoft Azure, which run similar services respectively called AWS EC2 and Azure Compute Service.
Like its competitors, it offers management of virtual machines through an online console. It allows clients to store data using either internal storage or external vendor services such as Amazon S3, OpenStack Swift or EBS volumes.
Unlike Amazon, which pioneered cloud computing offerings in IaaS with its cloud services, Google was an early starter in the Cloud Computing domain with PaaS as its first public cloud service, which is called App Engine. The Google Cloud Computing Platform was first launched in 2011. Although late to the party, Google Cloud Computing is definitely compensating for lost time with its reliable and economical service.
Build Your Career as a
AWS Cloud Architect
Boost your earning potential with AWS expertise. Explore our certified AWS Courses for a high-paying career
Why Google Cloud vs Amazon Web Services?
Google and Amazon have become two of today's biggest players when it comes to cloud computing. They make available a variety of services and technologies, are compatible with a range of third-party systems, and offer affordable subscription packages that fit most budgets. If you're interested in working with one or both of these giants but aren't sure which option is best for your company, you may want to consider their most significant differences before making a decision.
Here is a snapshot of the trends of AWS and GCP questions over time on Stackoverflow. You will notice that GCP questions are lower than AWS.
Google Cloud vs AWS: Market Shares & Growth Rate
As per Gartner user reviews from the Cloud Infrastructure and Platform Services industry of Amazon Web Services show a rating of 4.5 stars out of 5 with 2838 reviews. Google has a 4.5 rating with 859 reviews. Consider a side-by-side comparison of the product's capabilities, customer experience, pros and cons, and reviews from other customers to find the best match for your needs.
For cloud services, AWS is dominating with more than 30% of the market share. Google Cloud is making tremendous progress and will eventually catch up to AWS. Examine the graph below to see the market share and growth rate of top cloud providers.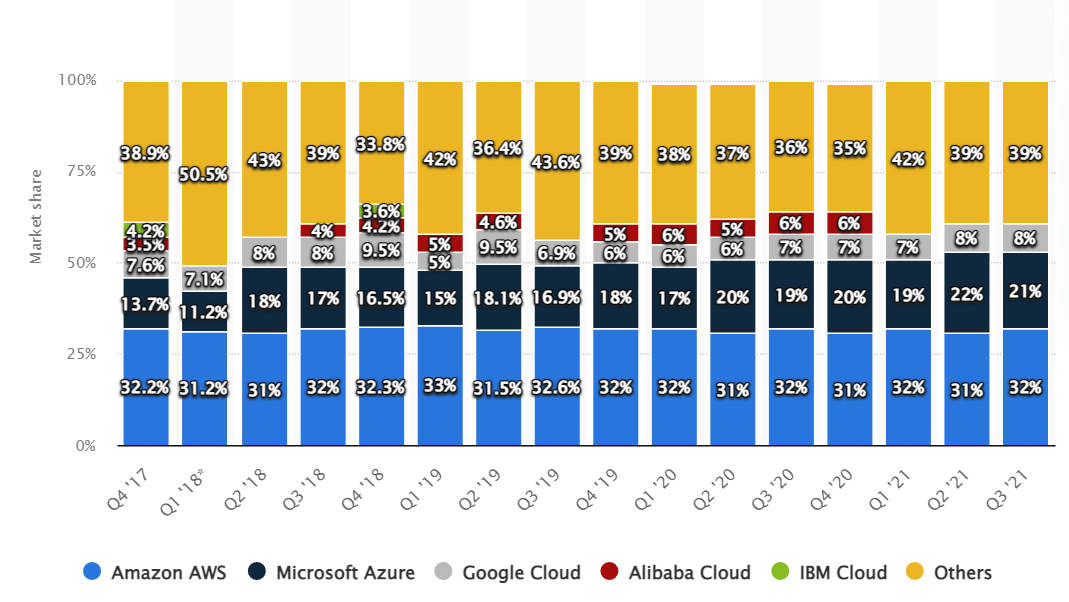 image source: statista
AWS & GCP Cost Breakdown
As cloud computing becomes a fixture of both big and small MNCs, finding the right cloud computing solution has become a discussion for both specialists and business owners. For example, AWS is a cloud computing provider, along with Google Cloud and Microsoft Azure.
Let's understand the difference in depth on the bases of Pricing, Storage, Network, and Computing
There are 4 basic pillars of cloud computing:
Pricing:
While they are not the same, Google Cloud and AWS each have their own unique billing systems, neither of which are particularly user-friendly or easily understood by someone who doesn't know them well. More generally, cloud services on Google won't change much over time, but they may end up being a little cheaper in the long run.
When it comes to compute and storage costs, GCP (Google Cloud) has lower rates than AWS (Amazon Web Services). For example, a 2 CPU/8 GB RAM instance will cost you $69/month with AWS, compared to only $52/month with GCP. As for cloud storage costs, GCP's regional storage costs are only 2 cents/GB/month vs 2.3 cents/GB/month for AWS.
Storage:
The best part about using a public IaaS cloud like GCP or AWS for your storage needs is that you don't have to worry about all the downsides of owning and maintaining your own hardware.
Network:
The Google Cloud and AWS both interconnect their data centers and use different networks and partners to deliver content via ISPs to end users. They both rely on a range of different products to accomplish this.
Compute:
There are differences between what Google Compute Engine and AWS EC2 call their virtual machines. With one being called a machine type, and the other being called an instance type. These two acronyms are very similar sounding but mean slightly different things depending on who you're talking about – confusion is sure to arise when users from both of these providers start using each other's services.
The naming conventions are slightly different – Google Compute Engine refers to them as machine types while Amazon EC2 calls them instance types.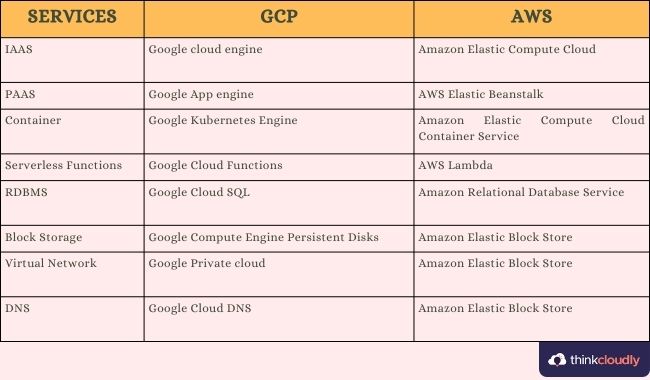 Final Thoughts:
So, who really owns this market for cloud servers? There are so many options out there these days. But what about when it comes down to Google Cloud vs AWS? Is there a clear-cut favorite or does each company have its strengths and weaknesses? One thing that isn't in question is the fact that whoever rises from this fight will be a force to reckon with.
After comparing these cloud services, we can come to the conclusion that:
Google Cloud is cheaper than AWS in terms of pricing.

AWS has more market share and services than Google Cloud.

Google Cloud is better than AWS in terms of instance configuration.

GCP still has to work on customer services.
So, now you're at the end of this blog reading AWS vs GCP. If you want to learn more about these services in-depth, do check out Thinkcloudly's AWS Certification courses and Google Cloud Training courses.