Planning is the most significant aspect of making anything efficient and optimum. In developing any product, we have a similar target to achieve the optimum product in an efficient expenditure. Here we need planning of the product.
It seems easy, but if you think so, you miss a lot. Product planning can boost your result product at a high value. It is a recursive and organized play of any development phase.
What is Product Planning?
We always see the result of any product, but many internal plans, strategies, and task redistribution are going inside the team. "Product planning is the internal team process of decision making, prioritization, and task distribution to apply altogether to receive the final product."
Generally, people call it as planning, but it is pretty different. The product plan and go-to-market plan combine to form complete planning. So, what is the difference between them? Let's jump into it!
Product Plan vs. Go-To-Market Plan
The product plan, as described, is the internal plan, whereas the go-to-market plan is the planning of how a product will be introduced to the market, how the product will gain market value, and more.
Product Plan
The declaration of the feature of the product to be developed.
Quality and analogies to be introduced in the product.
Pricing of the product.
The revenue target and goals campaign expenditure go into the product plan.
Deciding on the vendor's work with the manufacturing team.
Build Your Career as a
Project Manager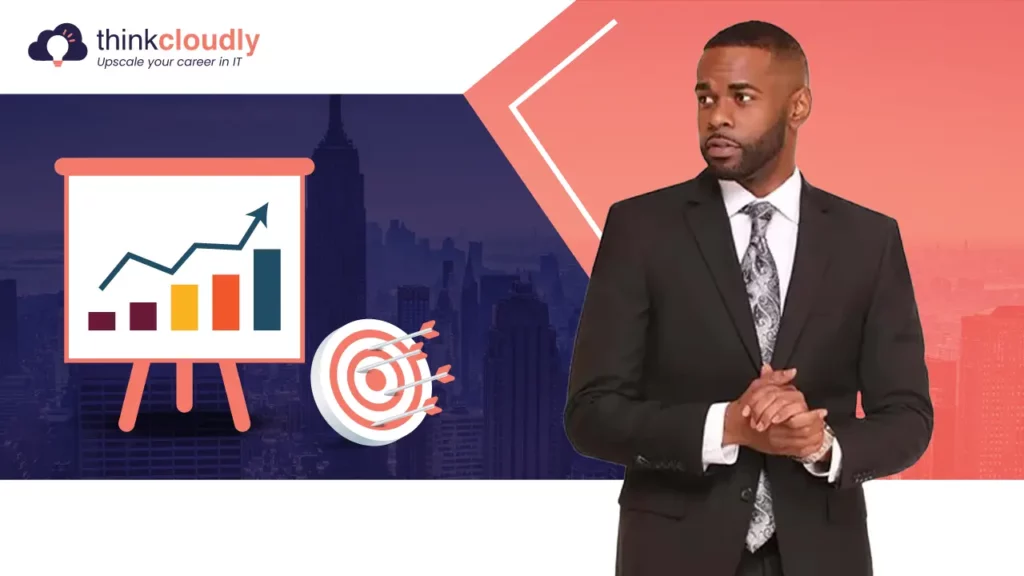 Go-To-Market Plan
The campaigns to run for awareness before the launch of the product.
The marketing strategies, ads, and email campaigns will be run for conversions.
Training of sales team and individuals for representation of the product.
Decision over short-span discounts and promotions.
Until now, you know well what the product plan is and how it is a distinct process. But how to achieve that optimum plan, and even if we reach that, what will benefit us? So, let us start with the benefit and will dig down into the process after that so that you know how much it is strictly essential before learning it.
Boost your earning potential with Scrum expertise. Explore our certified Scrum courses for a high-paying career
Why Product Planning?
It helps you look over how your product will work and what your product will be your blockage. Let me elaborate:
Boost Revenue: The revenue of a product can be boosted once it is planned. The product planning includes the launching market, audience, and launch date and time, which are the significant factors to pull potential product buyers.
Diversify risk: The competition in the market can be tackled when well-planned, and that's how the risk of product failure can be tackled once the product is planned.
Employing surplus funds: Once planned and worked with the right vendors and proper strategy, a good product and employing surplus of funds as once planned product proves its strength in the market compared to unplanned products.
There are many more reasons why a product must be planned. I will conclude in just a single line that anyone can configure well-planned work to be much better than an unplanned process. Isn't it?
So, you know well about product planning and why you need it. Let me discuss a simple planning strategy with you.
Product planning calls to be interesting for you. Explore our Cybersecurity courses to know about a good planning strategy.
5 Steps of Product Planning:
I will define 5 strategic phases of planning.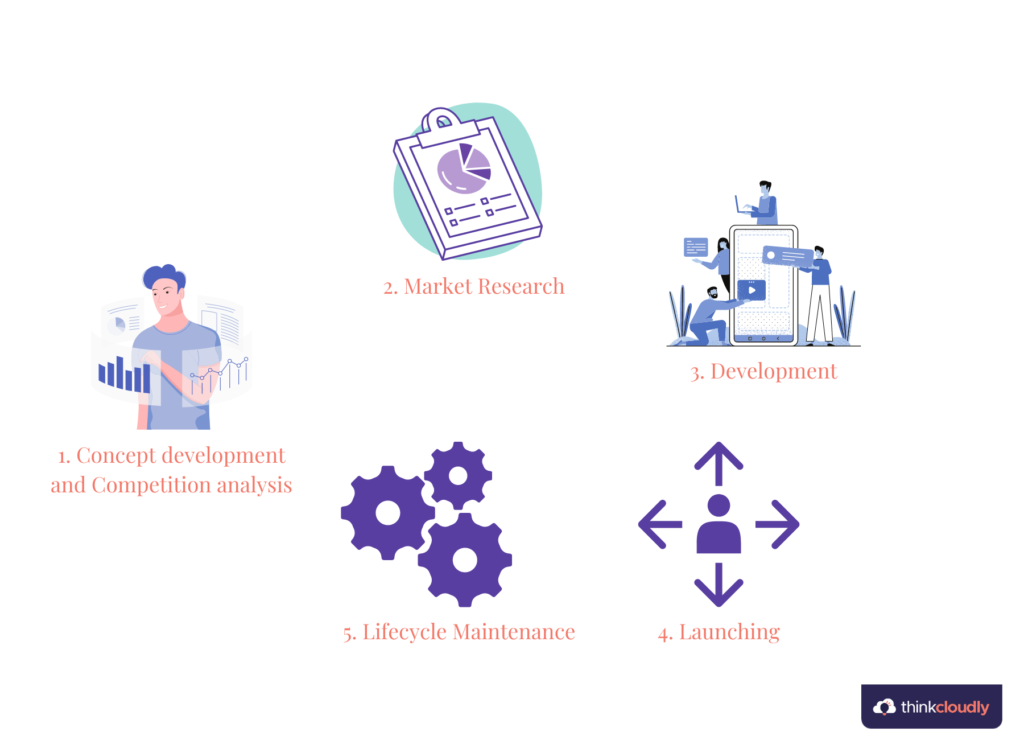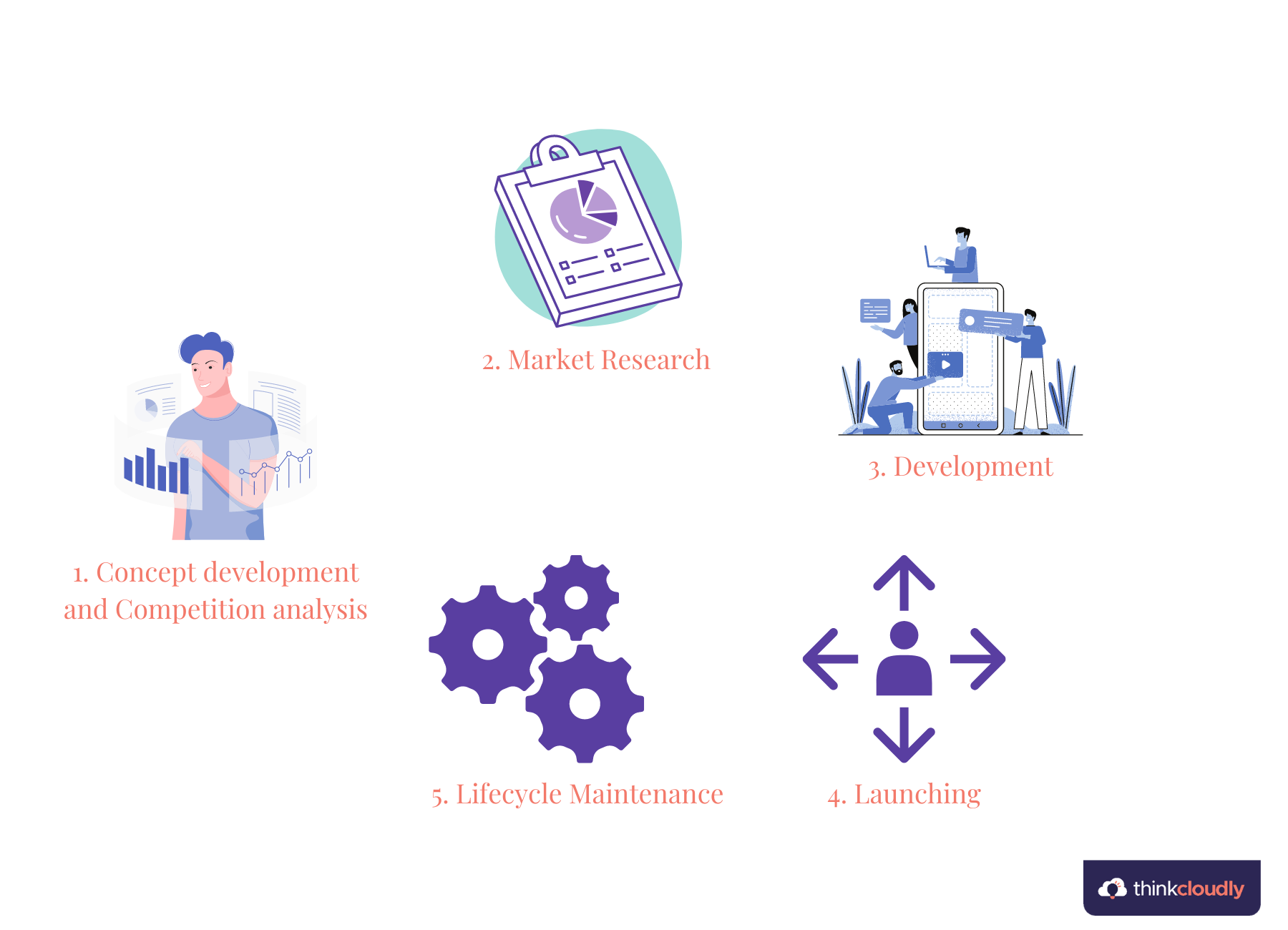 Concept development and Competition analysis: This step includes two phases. The first is concept development, which is the best fun part. The whole team comes up with innovations and ideas, and it's the best part of establishing a friendly discussion. This phase boosts the thinking capability of team members. The second phase in the same step comes up to be competition analysis, which analyzes how much you have to compete in the market. Are you the first one with such a product, or are you someone who is not first but can serve the best quality and affordable price? Many factors can tell you how much competition you will face in the market and what so you need to improvise in your product to beat it out.
Market research: The actual market is different from our thought process. What's the buying capability of your potential customers? Does your product suit the market needs? Is your product solving any problems? You can make significant revenue if you have better research on these things and work positively.
Development: As the name says, this phase is usually the development phase of your product, where all the task distribution, designing, scrum meetings, agile developments, and many more come in the figure to develop a market-ready product.
Launching: Since your product is ready for market after so much investment of time and money, it's time to test the market. You need to work over the launch date, discounts, coupons, influencers to advertise, advertising vendors, and many more so that you can create the initial demand for your product.
Lifecycle Maintenance: The notable thing is that most of us think that planning a product goes until the product is deployed. However, a more extensive section of lifecycle maintenance still exists. If you want your product to have good sales, you must stay on top in the market and update your product with the buyer's requirements.
Once following these steps, I can assure you of your best product planning!
Key Points To Take Home
Product planning is the internal team process of decision-making, prioritization, and task distribution to apply altogether to receive the final product.
It helps us to diversify risks, boost revenue, and employ surplus funds.
The product plan, as described, is the internal plan, whereas the go-to-market plan is the planning of how the product will be introduced to the market, how the product will gain market value and more.
Concept development and competition analysis, market research, development, launching, and lifecycle maintenance are the most crucial strategies for planning the product.
Product planning calls to be interesting for you. Explore our Cybersecurity courses to know about a good planning strategy