PMP standing for Project Management Professional, serves as per the name. It's one of the optimum executive certifications PMI (Project Management Institute) granted. The certification bag you up with certain benefits, an in-demand career, and lucrative pay.
PMP certification is most desired in the project management industry. A certified professional is responsible for managing and tracking projects. The certification sometimes behaves as a determining factor in appointing a project manager. Such demands and value give a high-paying value to the professionals.
If you are questioning whether to go with PMP certification, I am writing this blog for you. We will delve into facts, job roles, salary, and reasons in this writing piece, and till the end, I will try to leave you in a state where you can classify the decision on your end.
Facts With Project Management Professional
The PMP career is growing over a larger scale, and the reason behind it can be summarized in certain facts. Below are some of the classified facts:
PMP certification brings a high-paying salary slab: PMP is one of the corporate jobs. The valued professionals are making 6 figures with ease. You will be dealing with the planning, execution, implementations, team building, and leadership in one single job role, making you enhance your skill set.
Global Community: As a certified PMP professional, you have a gateway opened toward the global PMI community. You can connect with likely-minded professionals. As a community member, you can access multiple research papers, case studies, and valuable resources shared within the community.
PMP certification holds certain validity: The PMP certification is not a life-long achievement. The certification is valid for the next 3 years and can be renewed with a followed procedure. The advantage of renewability is you will be connected with fresh minds in the community who are willing to learn every moment to keep them updated with the race.
Certain uncountable facts about PMP prove it to be a must to have certification for a glorified career.
Job Roles After PMP Certification: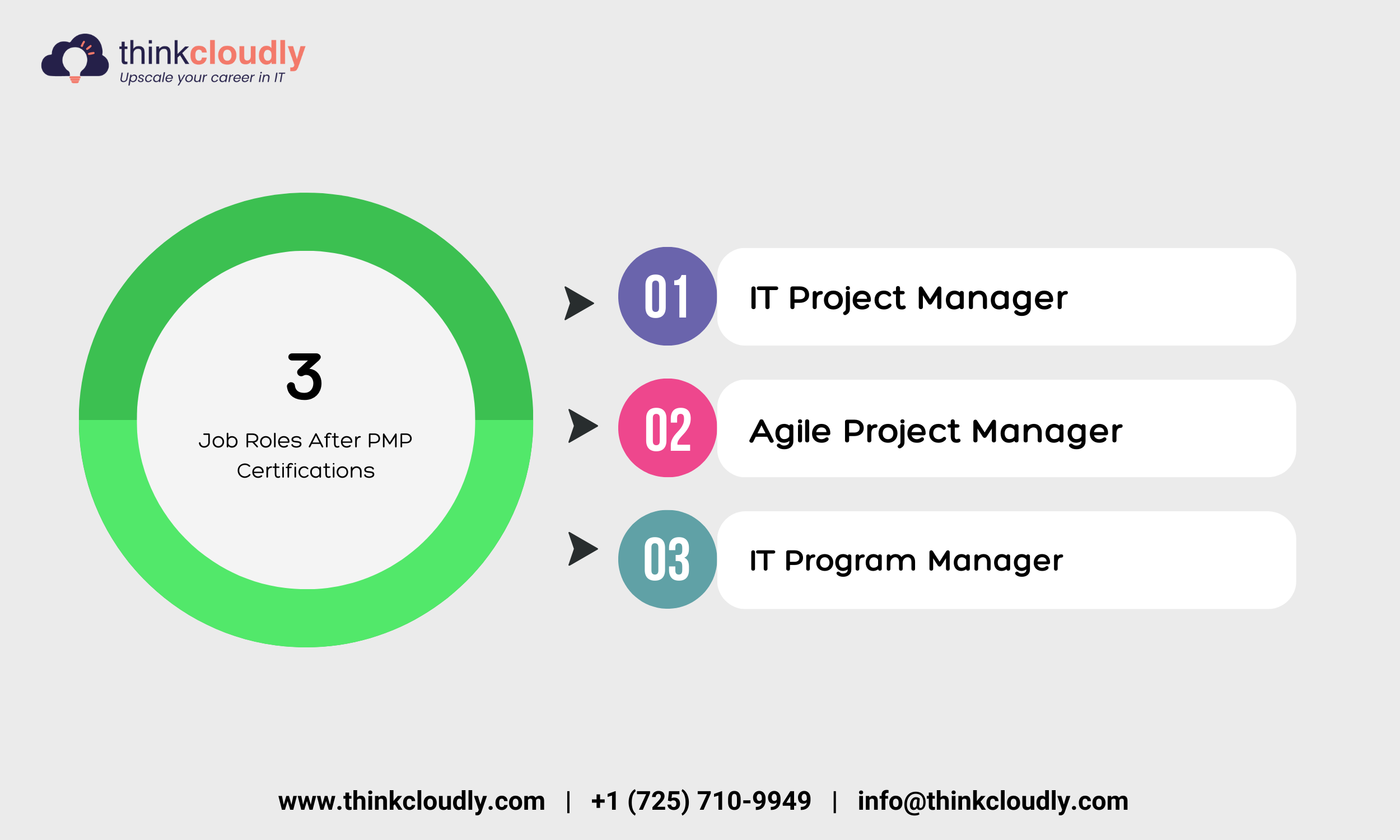 IT industry is open to countless project manager positions with lucrative salary growth and skill enhancement scopes. The top 3 I have filtered for you can be:
Boost your earning potential with Scrum expertise. Explore our certified Scrum courses for a high-paying career
IT Project Manager: IT project managers are responsible for planning, executing, and overseeing technology-focused projects. They coordinate teams, manage budgets and resources, ensure project delivery within scope, and align projects with organizational objectives. PMP certification combined with a strong understanding of technology and project management methodologies positions professionals for significant career opportunities in IT project management.
Agile Project Manager: Agile methodologies like Scrum and Kanban have gained immense popularity in the IT industry. Agile project managers facilitate iterative and adaptive project delivery, promote collaboration, and ensure continuous improvement. PMP-certified professionals with knowledge and experience in Agile frameworks are highly sought after to lead Agile projects and foster Agile adoption within organizations.
IT Program Manager: IT program managers oversee multiple related projects within a program, ensuring coordination, strategic alignment, and successful delivery of technology initiatives. They manage interdependencies between projects, allocate resources, mitigate risks, and maintain effective communication with stakeholders. PMP certification provides the necessary expertise to manage complex IT programs, making professionals valuable assets in organizations undergoing large-scale IT transformations or managing portfolios of technology projects.
Every industry nowadays deals with managing their products or services, and there creates a loop for project manager demand. The vast requirement creates many more job roles that the certified professionals in the market need help to fulfill.
Salary of Project Management Professional:
According to the Project Management Salary Survey conducted by the Project Management Institute (PMI) in 2021, here is an overview of the average annual salaries for PMP-certified professionals in a few selected countries:
United States: The average annual salary for PMP-certified project management professionals in the United States ranges from $105,000 to $125,000, depending on experience and location.
Canada: In Canada, PMP-certified professionals earn an average annual salary ranging from CAD 85,000 to CAD 110,000.
United Kingdom: PMP-certified professionals in the United Kingdom can expect an average annual salary between £50,000 and £70,000.
Australia: The average annual salary for PMP-certified professionals in Australia falls from AUD 110,000 to AUD 130,000.
Reasons Behind Demand for PMP:
PMI's "Earning Power: Project Management Salary Survey" (2021): According to this survey, PMP-certified professionals reported higher median salaries than non-certified individuals in project management roles. The survey emphasizes that earning potential is significantly enhanced with PMP certification, leading to better job prospects and increased compensation packages.
Career Advancement: PMP certification is often seen as a prerequisite for managerial and leadership positions in project management. A PMP certification can open doors to higher-level roles, greater responsibilities, and more challenging projects. It validates your expertise, demonstrates a professional commitment, and can accelerate career progression.
Global Opportunities: PMP certification is globally recognized and valued, providing access to international job opportunities and projects. Many multinational companies seek PMP-certified professionals to lead their global initiatives, offering exposure to diverse cultures, industries, and work environments. PMP certification enhances your marketability and increases the chances of working on prestigious international projects.
Project Management Professionals are enjoying a glorified career, and the reasons are proved by the reasons and facts mentioned above.
Conclusion:
In conclusion, obtaining a PMP certification can offer numerous benefits, including a rewarding career, a high-paying salary, and access to a global community of professionals. The PMP certification is highly valued in the project management industry and serves as a determining factor for employers when appointing project managers. The certification brings credibility, enhances skills in planning, execution, team building, and leadership, and opens doors to lucrative job roles.
After becoming PMP certified, professionals can explore various job opportunities such as IT Project Manager, Agile Project Manager, and IT Program Manager. These roles come with attractive salary growth and opportunities for skill enhancement. The demand for project managers across industries is vast, creating a market need that certified professionals can fulfill.
Regarding salary, PMP-certified professionals earn higher median salaries than non-certified individuals in project management roles. The average annual salaries for PMP-certified professionals vary depending on the country, with figures ranging from $105,000 to $125,000 in the United States, CAD 85,000 to CAD 110,000 in Canada, £50,000 to £70,000 in the United Kingdom, and AUD 110,000 to AUD 130,000 in Australia.
The demand for PMP certification stems from various reasons, including its proven impact on earning potential, career advancement prospects, and global opportunities. PMP-certified professionals are sought after by organizations worldwide, making them valuable assets for managing international projects and contributing to the success of multinational companies.
Explore our PMP certification training for further assistance.
In conclusion, pursuing a PMP certification can be a significant step towards a rewarding and prosperous project management career. By acquiring the certification, professionals can enhance their skills, broaden their network, and tap into a world of opportunities. Considering PMP certification, weighing the facts, job roles, salary prospects, and the reasons behind the high demand for PMP professionals is important.