Scrum Master plays a vital role in any organization as he is the professional guiding over the scrum philosophy and artifacts to the entire team member and the product owner. So, we are up with some scenario-based scrum master interview questions and answers that an interviewer can ask you to examine your credibility as a professional scrum master.
"Scrum Master Certification Q&A: Ace Your Exam!"
Searching for "certified scrum master questions and answers" or "answers to scrum master certification" is a common practice among individuals preparing for the Scrum Master certification exam. These seekers are aiming to access a comprehensive set of questions along with their corresponding answers to enhance their understanding of Scrum principles and methodologies. By studying these materials, aspiring Scrum Masters can gain valuable insights into the practical applications of Scrum frameworks, agile practices, and team collaboration. This proactive approach to exam preparation reflects a commitment to mastering the intricacies of Scrum and demonstrates a dedication to becoming a proficient and certified Scrum Master.
In a highly competitive job market, acing a Scrum Master interview requires not only a solid understanding of Agile principles but also the ability to navigate through scenario-based questions effectively. These scenario-based interview questions for Scrum Masters are designed to assess your practical knowledge and problem-solving skills. When preparing for such interviews, it's crucial to emphasize your experience in real-world situations. Remember, the best way to approach Scrum Master interview questions and answers scenario-based is to draw upon your past experiences, showcasing how you've successfully tackled challenges, facilitated collaboration, and driven Agile transformations. This not only demonstrates your expertise but also proves your readiness to handle dynamic, real-world scenarios in a Scrum Master role.
Below Listed Scenario will help you to a better career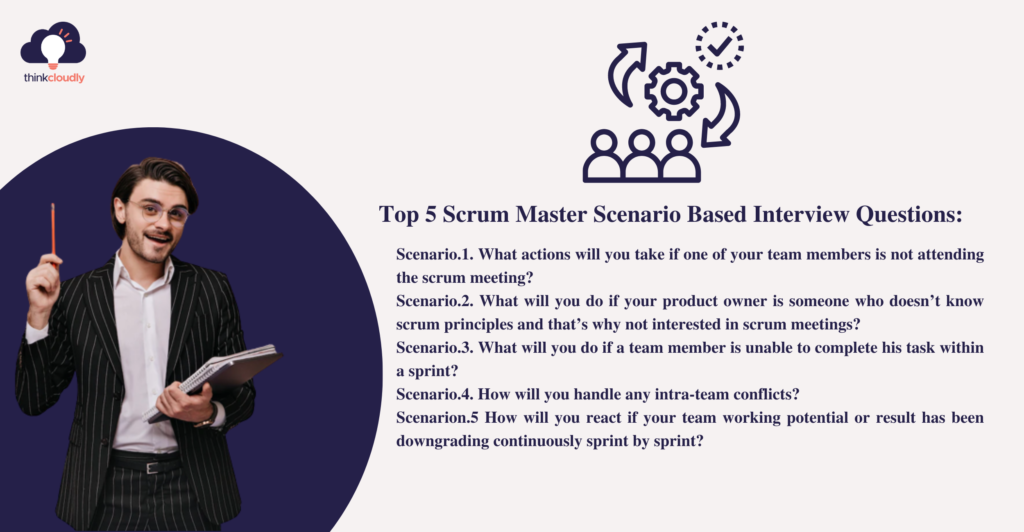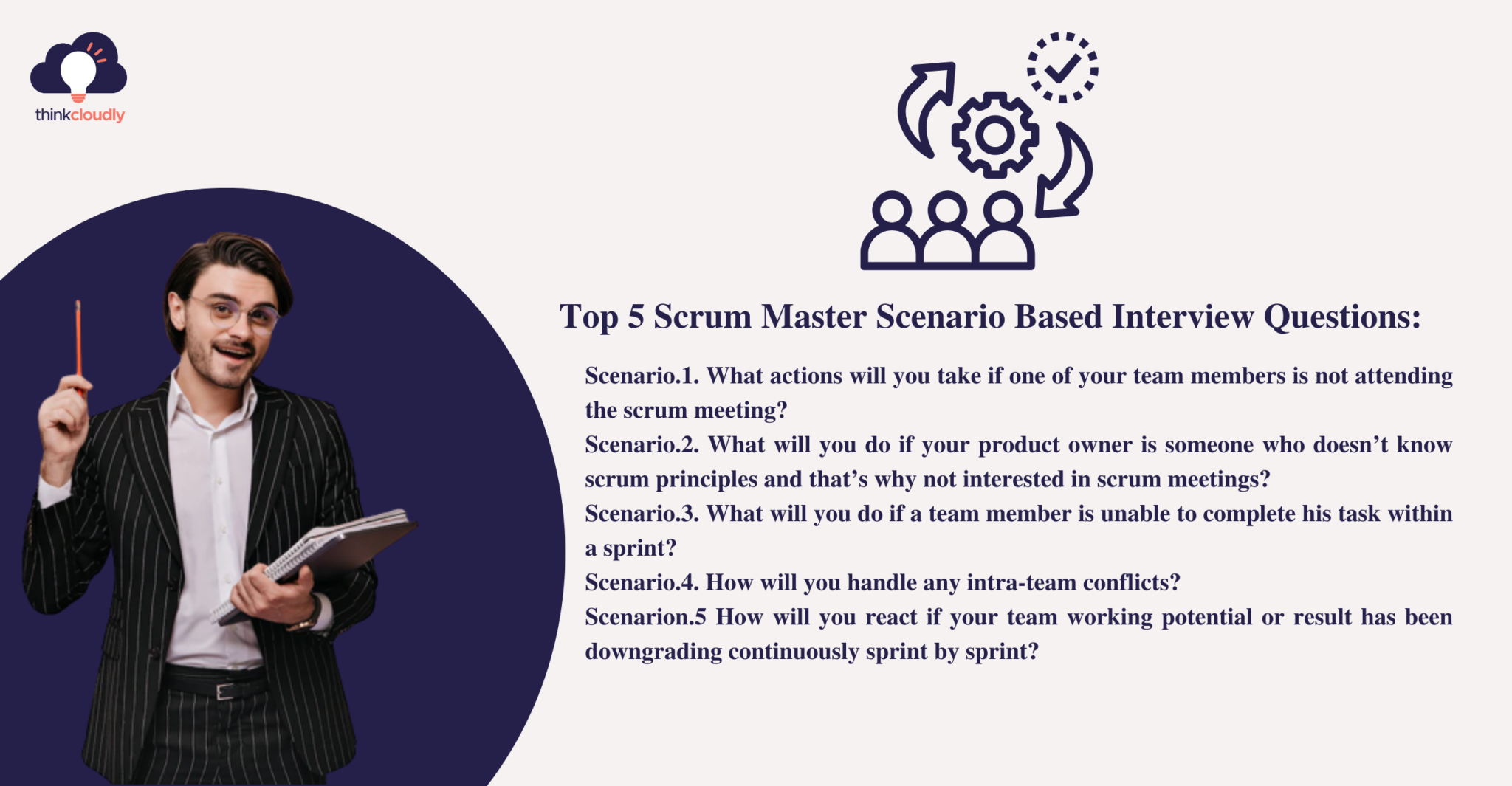 Scenario.1. What actions will you take if one of your team members is not attending the scrum meeting?
Action: If any team member is not attending the scrum meeting, there may be a big reason for going behind. I will try to reach the root. These are some of the good steps I would like to work with:
I will check if the team member is overloaded and unable to find time for a meeting or escaping the meeting hide their incomplete task from the team. If this is the scenario, I will delegate the work to other team members and track the team's upcoming productivity.
I will counsel them if they are going through something beyond the work affecting their progress or desire towards productive work. If this stands the condition, I will find a way to resolve the problem if it falls within my boundary.
In both scenarios above, I will explain the methodologies of Scrum to the member and make them feel the importance of their presence for the entire team's progress. I will let them get their worth.
The last option is to discuss the problem with the managing authorities and find an appropriate solution in favor of better product development. But, this will be a choice if all the scenarios mentioned earlier fail.
Scenario.2. What will you do if your product owner is someone who needs to learn scrum principles, and that's why not interested in scrum meetings?
Action: If a scenario arises where the product owner is new to Scrum Master, he may need to be more attentive to the Scrum meeting. In this case, I will take the sole responsibility for driving the development, and I will follow certain desirable steps:
I will talk with the product owner and let him know the protocols of Scrum and how much his presence is responsible for managing the entire product development. He is the one who can drive the entire process to the next level.
I will sit with the product owner in the initial sprints and create product backlogs, upcoming sprint plans, and required documentation. I will monitor and guide the product owner toward the working philosophy.
After the complete training and one-to-one discussion with the product owner, I will ask him to drive the entire product development and attend the scrum meetings.
If it still doesn't work, I prefer to talk to the higher management body for a suitable solution.
Build Your Career as a
Scrum Master
Scenario.3: What will you do if a team member cannot complete his task within a sprint?
Action: If any of my team members is unable to complete his task within a sprint and it repeats, then he could be overloaded, new to the assigned task, or will be engaged in some other task.
I will try to reach the root. I will encourage the member to speak out about the issue he is dealing with. Based on the scenario, I will make decisions:
Overloaded: If the member is overloaded, I will tell the product owner that this is burning our product progress and will find a generic solution.
New To Assigned Task: There is a possibility that the member is new to the assigned task. He needs to become more familiar with the technologies on the task assigned. In this state, I will delegate the work to some other member for some time and give the team member some space to get stabilized with the technologies or way of working.
Engaged In Other Project: The member may be engaged in any other ongoing project in the organization. In this scenario, I will talk to the managing body and let them know the lacking we will be facing in the product progress and will demand to come up with a solution.
Boost your earning potential with Scrum expertise. Explore our certified Scrum courses for a high-paying career
Scenario.4. How will you handle team conflicts as a scrum master?
Action: As per my understanding, team conflicts can arise by misunderstanding, some foul work by a member, or work pressure. I will examine every perspective one over another.
Firstly, I will talk to each member personally and will come to know everyone's perspective, and then I will talk with them commonly to find out the root reason for the conflict.
I will secondly encourage them that we are a team and our every step can impact the entire team and will motivate them to work combinable in a healthy environment.
Over these two steps, I will personally talk to every member and find out if they are going through any workload or if something else is making them engage in conflicts.
If all these don't work, I will sit with the product owner and devise a solution that should not affect the product's progress.
Start your preparation for being a scrum master today with Thinkcloudly. Join a scrum master training!
Scenarion.5 How will you react if your team's working potential or result has been downgrading sprint by sprint continuously?
Action: There could be multiple reasons for the continuous downgrade in the team's performance if they performed well before. I will look over every aspect:
Work Needed In The Task: There is a possibility that the team has completed all the easy tasks in the previous sprints, and the remaining task needs more caliber, leading to a downgrade. So, I will analyze the tasks, and if my assumption comes true, then there is no worry.
Similar Task: If a team member works on a similar task from many sprints, they may not have the same interest. In this scenario, I will combine possible tasks among the team members to regain the same spirit.
Beyond this, there is a possibility of personal issues among some members, so I will also go with some personal counseling rounds.
It was all about scenario-based questions. We will be coming up with more scenarios and their solutions. Meanwhile, you can explore our blog sections on interview questions for more knowledge and remember to reach us if you need help. We are open to help. Happily Thinkcloudly!