Are you someone willing to have a Scrum Master role?
Are you thinking of getting your product developed by your team in an optimum manner?
"Mastering Scrum Master Interview Questions "
In the dynamic landscape of 2022, having a firm understanding of the usual Scrum Master interview questions is pivotal for aspiring candidates. Carefully crafting thoughtful responses to these inquiries not only boosts candidates' confidence but also showcases their adeptness in Scrum methodologies and skillful team leadership. This preparation illuminates their commitment to driving agile success and fostering collaborative excellence.
In the fast-paced world of agile project management, staying updated with the latest trends and insights is crucial, even in 2023. When preparing for a Scrum Master interview, it's essential to not only focus on the timeless principles but also be aware of how the field has evolved. While the core skills and competencies remain consistent, being well-versed in the most relevant Scrum Master interview questions 2022 can set you apart from other candidates and demonstrate your commitment to continuous learning and improvement. So, in addition to mastering the fundamentals, make sure to brush up on the Scrum Master interview questions and answers from 2022 to stay at the forefront of this dynamic profession.
Then these Scrum Master interview questions are going to be only for you.
Cracking a job in IT is getting tougher by the day, but it's easier when guided properly and prepared with well-researched resources. This article will introduce you to 15 industry-researched most important questions for the Scrum Master interview. So why wait? Let's jump to count 1.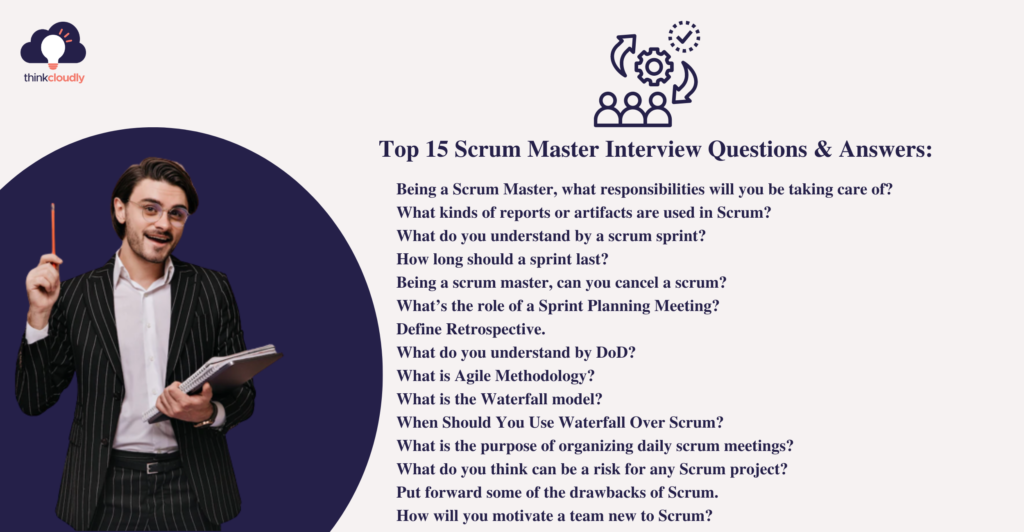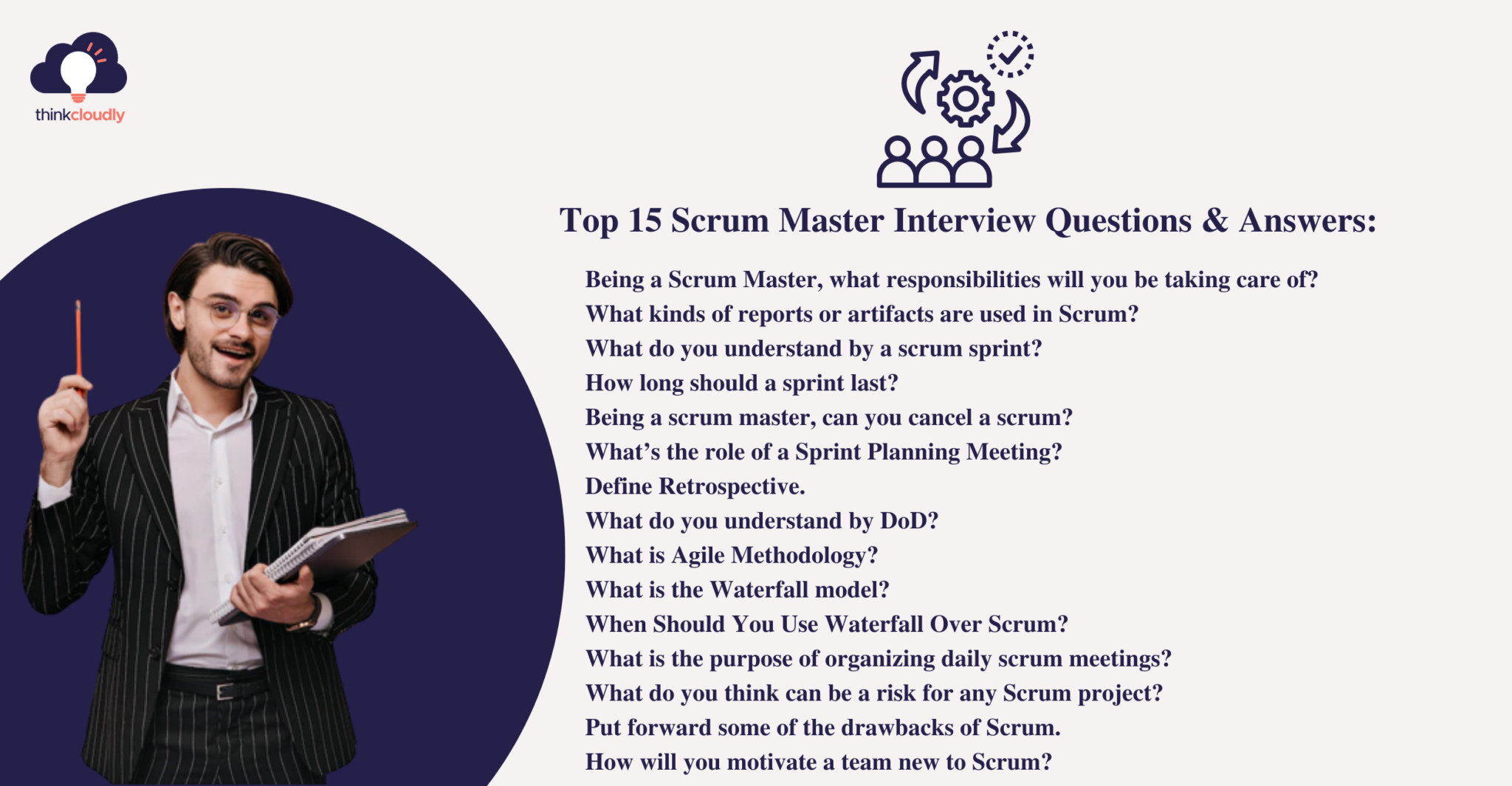 Q1. Being a Scrum Master, what responsibilities will you be taking care of?
Answer: The responsibilities of being a Scrum Master to me will be:
Tracking and management of the project progress
Taking care of requirements and analyzing the worth
Achieving project goals
Guiding a healthy environment in the team
Level up the performance of individuals and the entire team
Arranging periodic meetings and resolving the blockages
Resolution of conflicts and impediments
Maintaining proper communication
Ensuring the proper use of resources by individuals
Creating scrum artifacts and delivering the scrum philosophy
Reporting to the product owner
Q2. What kinds of reports or artifacts are used in Scrum?
Answer:
Product backlog: The documentary includes the remaining works to reach the final product. The product owner uses it to track the product's progress and the development team's efficiency.
Sprint backlog: It is a sub-document of the product backlog that contains the details and backlogs in a sprint or simply the remaining tasks to be completed. It is used to track the healthy flow of sprints.
Burndown graph: It is a graphical representation of the remaining tasks to reach the final product and can be used to track the progress of the development of the product in one view.
Product increments: The sum of total works completed in a sprint and the results in the previous sprints. It can be too used as a product progress trackable tool.
Q3. What do you understand by a scrum sprint?
Answer: Any project is broken into several small goals, achieved one after another to complete the project. These goals are planned, and each is completed in one cycle termed sprints. That's a reason we call sprints recursive cycles.
Boost your earning potential with Scrum expertise. Explore our certified Scrum courses for a high-paying career
Q4. How long should a sprint last?
Answer: Every project holds different requirements, and so makes the sprint and their time to be planned. Generally, no sprint lasts over 30 days.
Q5. Being a scrum master, can you cancel a scrum?
Answer: No, being a scrum master, I can't cancel a scrum. Only a product owner can cancel the Scrum, even under the Scrum timebox.
Q6. What's the role of a Sprint Planning Meeting?
Answer: Sprint planning provides an opportunity to get the review of the product owner on the progress of a sprint. In the discussion, the product owner prioritizes the backlogs based on which scrum master and the development team can plan the upcoming sprint. So sprint planning meeting is an opportunity to judge the progress, analyze priorities, and plan the remaining sprints of the project.
Build Your Career as a
Scrum Master
Q7. Define Retrospective.
Answer: A retrospective meeting is conducted after a product has been launched to discuss what went wrong throughout the process of developing and releasing it. The aim is to make improvements based on those discussions and learnings.
Q8. What do you understand by DoD?
Answer: DoD is an acronym for the definition of done. It can be called a quality report of the projects. It contains the list of all the completed deliverables of the project or contract. It is the best thing to track the status of any sprint backlog.
Q9. What is Agile Methodology?
Answer: Logically, Agile is neither a method nor a format. It's a philosophy based on which any team can develop software. It states certain methodologies based on which we can complete development more efficiently than the traditional waterfall model in software engineering.
Q10. What is the Waterfall model?
Answer: The waterfall model in software engineering is a pre-described set of steps that must be followed to achieve better software. The involved steps are:
Requirement Analysis
Planning
Designing
Coding
Testing
Deployment, and
Maintenance
Q11. When Should You Use Waterfall Over Scrum?
Answer: As waterfall model is not a recursive process of development. By saying this, if we have passed through one stage (let's say coding to deployment), there is no step back. So, the waterfall can be used over Scrum only if the goal is simple, marked, and fixed.
Q12. What is the purpose of organizing daily scrum meetings?
Answer: Daily scrum meetings are required for internal team discussion. It is a 15-minute regular discussion between the team members and the Scrum master to review the progress and discuss the blockages. The basic purpose of the scrum meeting is to analyze the daily performance and plan the next day's target.
Q13. What do you think can be a risk for any Scrum project?
Answer: There can be various blockages for any project. We encounter risks many times under a single project, but some of the biggest I can filter out are:
Not matching deadline
Budget issue
Unplanned expenditure
Lack of knowledge of team members, and
Unexpected demand over the track
Q14. Put forward some of the drawbacks of Scrum.
Answer: Some of the drawbacks of the scrum that I can encounter are:
In simpler products maintaining artifacts and documentation is a waste of time.
Regular meetings and progress maintenance need resources and increase expenditure.
The goal and targets depend on the entire team, and a single delay leads to a product backlog.
Sometimes sprint backlogs come out to be blockage for the upcoming blockage.
Time consumption on a regular with the product owner can be utilized.
Q15. How will you motivate a team new to Scrum?
Answer: The new team may need to be made aware of Scrum's principles, which can be a big drawback as this will let the members think of a regular meeting as a waste of time.
But the previous project achievements will help me let them show the importance and unexceptional results. At the same time, I can showcase the plan based on sprints to them. This will distribute their burden and give them a chance to get help on their blockages in a scrum meeting. Letting them feel this will make their work easy will help me handle them patiently.
Concluding Words From The Writer's Desk Over Scrum Master Interview Questions:
The questions mentioned above are industry-researched. There are still a lot of possibilities for question forming, but these are the essentials. Knowing these answers shows how you are good with your core understanding. There are many more resources to follow, which you explore in our free resources for a scrum master.
Keep learning. We will meet again with some much better content. As of now, good luck with your exams. Happily Thinkcloudly!