Are you preparing for your ServiceNow interview?
If yes, then this is going to be for you.
Having your core course knowledge is sometimes not required. The skill of representing the right answers makes a big difference.
If you're preparing for a ServiceNow Business Analyst interview questions in 2023, it's essential to familiarize yourself with a range of ServiceNow interview questions These questions can encompass various aspects of ServiceNow, such as its functionalities, modules, and best practices. By thoroughly understanding and practicing these ServiceNow interview questions and answers, you'll be better equipped to demonstrate your expertise in the platform and increase your chances of securing the position.
We have tailored a set of ServiceNow interview questions that are mostly asked in interviews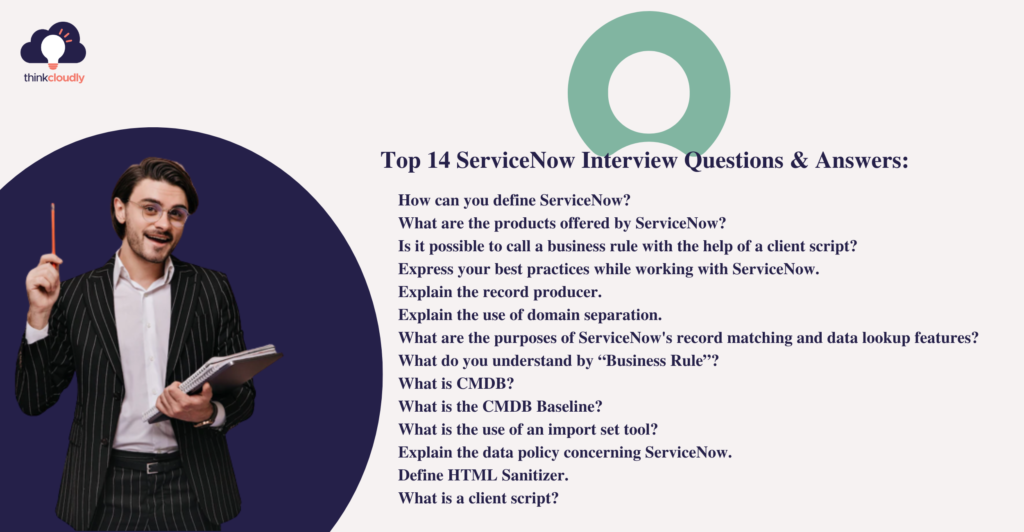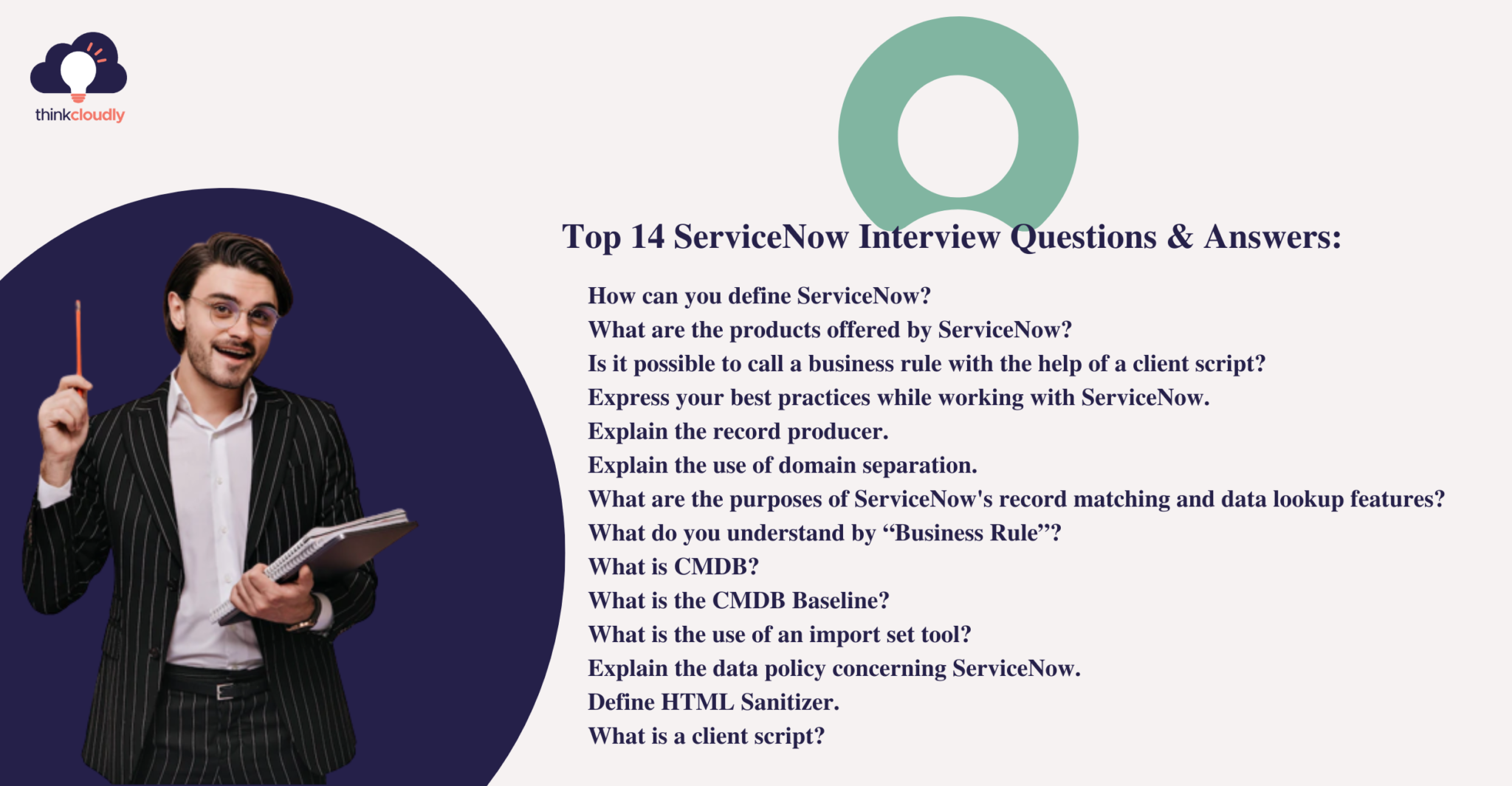 Q1) How can you define ServiceNow?
Answer: ServiceNow is a cloud-based IT Service Administration application that provides a centralized repository for IT services, operations, and business management.
Q2) What are the products offered by ServiceNow?
Answer: ServiceNow offers various products or tools that help in the improvement of management:
IT Service Automation Application
HR management
Business Management Applications
Custom Service Management
Boost your earning potential with AWS expertise. Explore our certified AWS Courses for a high-paying career
Q3) Is it possible to call a business rule with the help of a client script?
Answer: It is possible to use a client script to invoke a business rule. However, we can achieve the same results using glide ajax.
Q4) Express your best practices while working with ServiceNow.
Answer: Some of the practices that I believe in having are:
Using ServiceNow, we can create a contemporary work environment with ease.
To improve service delivery, we should attempt to organize the workflow and automate it.
We can use collaborative workspaces in place of spreadsheets and email.
We should automate all of your company's commercial procedures.
Q5) Explain the record producer.
Answer: Record Producer can be utilized by a non-ITIL user to produce items like Incidents, Changes, and anything other than Requests from a unique front end provided via the Service Catalog/Portal.
Q6) Explain the use of domain separation.
Answer: ServiceNow's strategy of domain separation is effective. It aids in the division of data into logically distinct domains. Additionally, it offers the choice of autonomous administration.
For example, Let's say I am handling my business at the same time as working under a firm for some extra income. Then obviously, I will not like the people at my work to know the details of my business. I can use domain separation to separate each organization's data and let the only accessible people interfere.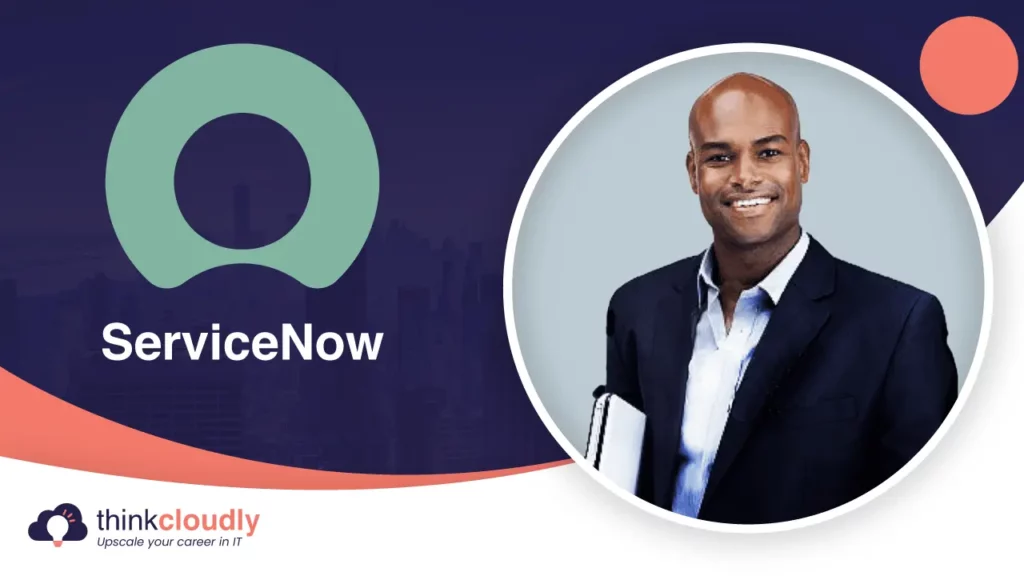 Build Your Career as a
ServiceNow Developer
Q7) What are the purposes of ServiceNow's record matching and data lookup features?
Answer: The purpose of ServiceNow's record matching and data lookup features serves instead of writing scripts. You can create field values based on a certain circumstance using data lookup and record matching.
Q8) What do you understand by "Business Rule"?
Answer: The business rule is server-side scripting. Every time a record is added, changed, removed, displayed, or queried, it executes. The timing and context of the action the business rule intends to take are crucial considerations while developing it. When an action is taken, the business rule might be applied "on display," "on before," or "on after."
Q9) What is CMDB?
Answer: CMDB, or configuration management database, is a storage location that serves as a data warehouse for IT systems. The CMDB contains information on a group of IT assets and their links.
Q10) What is the CMDB Baseline?
Answer: The baseline is a CI's snapshot. The modifications to a configuration item (CI) after its baseline has been produced can be understood and controlled using CMDB baselines.
Q11) What is the use of an import set tool?
Answer: We can transfer data from outside sources and integrate it with data gathered through Analytics using Data Import. Then, using analytics, we can arrange and examine all of our data in a way that more accurately represent our company.
Q12) Explain the data policy concerning ServiceNow.
Answer: By giving all of the fields read-only properties, you may enforce online data regulations. UI policy only applies to data entered on a form using a regular browser, where the two diverge. However, data policies can impose restrictions on all data entered into the system.
Q13) Define HTML Sanitizer.
Answer: Markup in HTML fields is automatically cleaned up by the HTML sanitizer. It aids in code removal and offers defense against security issues like cross-site scripting attacks.
Q14) What is a client script?
Answer: Client script is a term used to describe a script that can only execute on a client-side browser. The following categories of operations are carried out by the client script.
OnLoad()
submit()
OnChange()
OncellEdit)
Concluding Words Over ServiceNow Interview Questions:
These ServiceNow interview questions can help you to do wonder. Representing these answers properly makes you prove your credibility and strength towards the basics.
You need to review these questions twice, and you are good to go. Good luck with your interview. Remember to look over our interview guides for ServiceNow.