Microsoft Azure Security Certification Training Az-500
Greetings and welcome to the Azure Security Course!
As part of an IT and cloud environment, it is always a challenge to make resources available to users while keeping them secure. In this course, you'll work on managing identities, providing role-based access, and securing data within an Azure ecosystem.
The Thinkcloudly team will assist you in preparing for the Microsoft Azure Security certification (AZ-500) exam by taking you through sections, modules, and videos.
Start your journey as an Azure securities professional today!
About Azure Security course
Thinkcloudly provides the most comprehensive and one of the best Azure training. Our Azure training provides you with first hand experience in Azure concepts and workflow using labs and live sessions. Upon successfully completing this Microsoft Azure Security certification (AZ-500) exam, you will be proficient in Azure services.
Cloud Computing is capturing a fancy area in the world's economy, from desk jobs to battlefields. Azure provides various valuable certifications, and we at Thinkcloudly make you capable of getting you certified. An average Microsoft Azure Security engineer makes $1,50,000 a year, according to Glassdoor.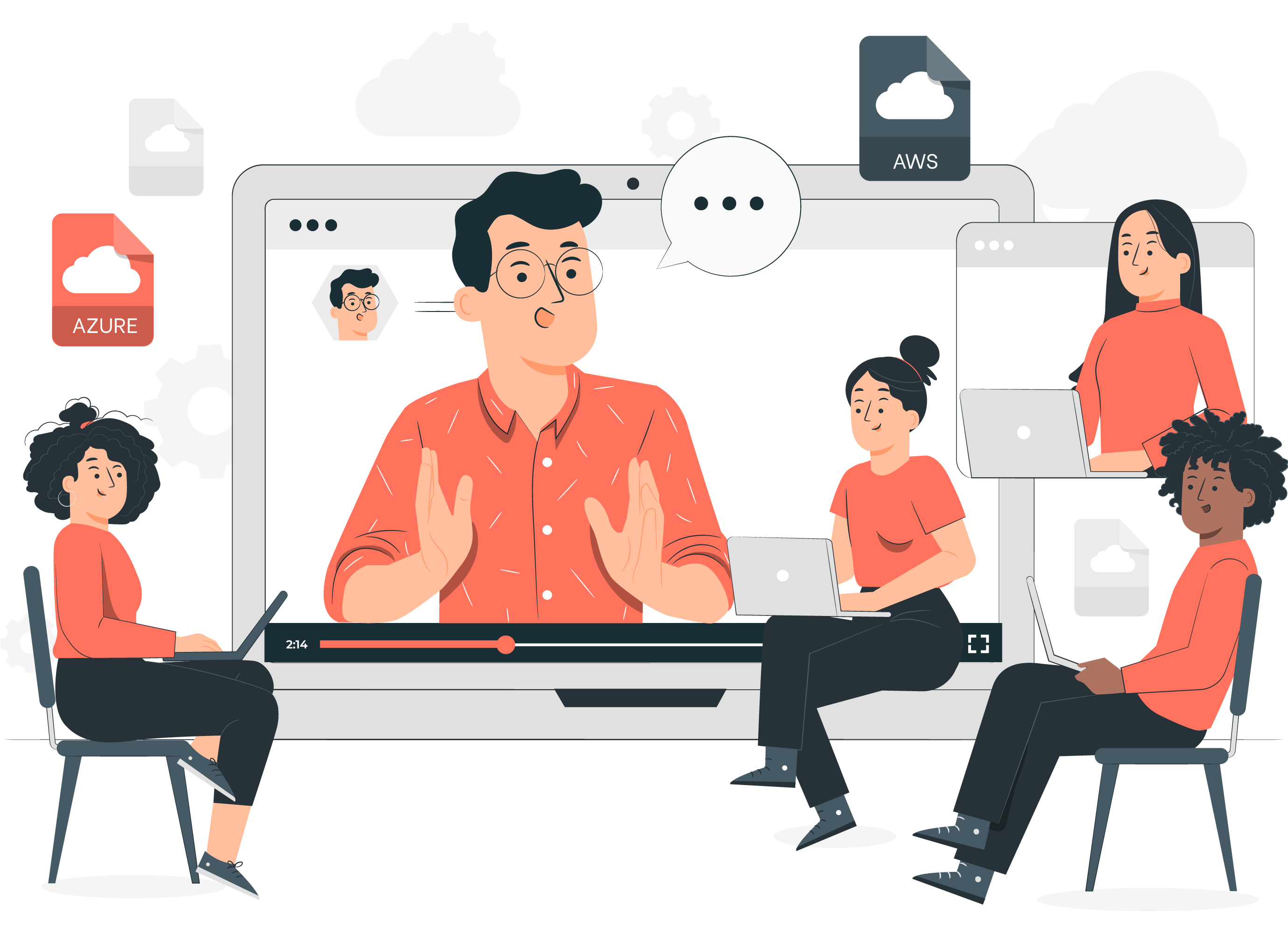 Become an expert in securing data in the cloud.
Protect your business from costly cyber threats.
Develop skills for protecting Azure platform through Azure Security core services and capabilities.
Gain knowledge for securing Azure data and applications.
Become certified in Microsoft Azure Security Technologies.
What will you learn in this Microsoft Azure Security Training course?
Loved the Courses Content ?
Book your free demo today and take your first step towards learning…
Azure Courses in the Same Path
Microsoft Azure Fundamentals Training Az-900
Microsoft Azure DevOps Training AZ-400
Microsoft Azure Architect Training Az-305
For all your course related queries you may contact our course advisor….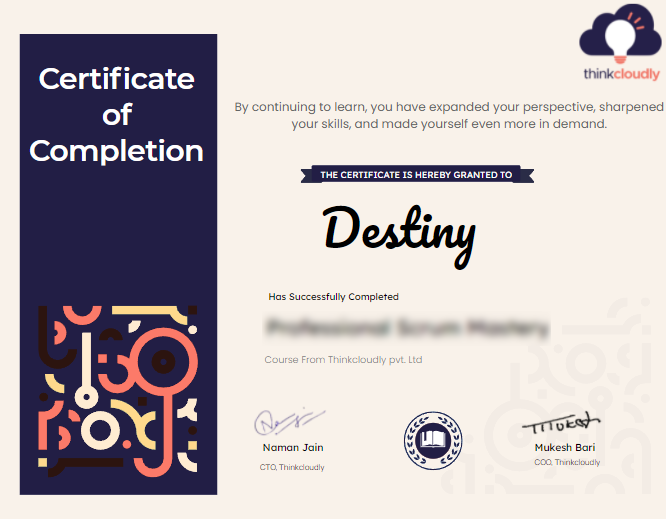 Improve your technical abilities by learning with the finest tutors.
Earn Certificate of completion.
Deepen your understanding of cloud computing.
Practice with hands-on labs to polish your cloud computing skills.
Thinkcloudly is fortunate to be able to offer the best training possible because of our experienced instructors. Our recruiting process is detailed to make sure you only get top-of-the-line talent. 
They have been trained in many areas since they have been exposed to so many projects during their time as IT professionals. 
As an instructor, this experience provides us with the opportunity to provide you with real world examples and scenarios so you can see first hand what it would be like if you were working for a company yourself.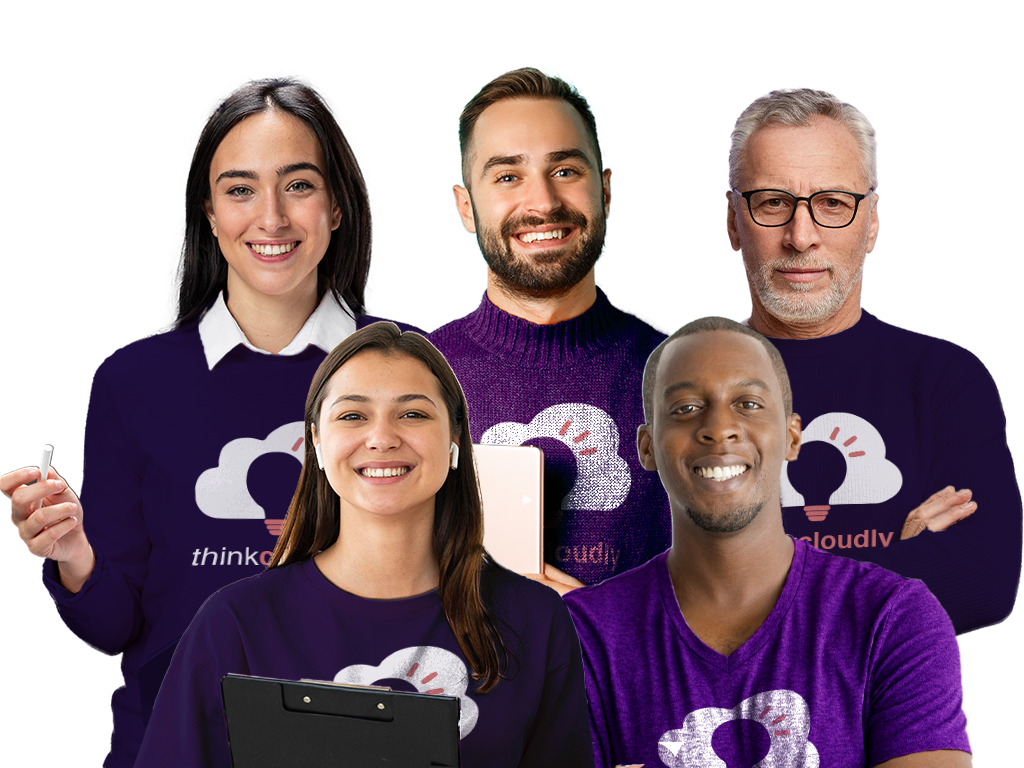 Looking for Azure Jobs? You have come to the right place.
Learn to become an Azure Certified Professional with our Job oriented course and land a JOB! In just a few weeks, you can go from beginner to expert level and take the azure cloud practitioner exam.
Training and Certification Reviews

Check out what our students have to say about us! Many of them enrolled in our Microsoft Azure Security course and found themselves holding their dream job after learning Azure Cloud.
Thinkcloudly na Baba...They made get my ever first IT real job, i got no IT background , yet i got a job with one of biggest IT firm in the... read more world....

Odunayo K Olusola


Iam presently taking class with thinkcloudly and lam so impressed by their teaching and professionalism, the team is so amazing and l do not regret my choice. As a new... read more solution architect student lam so proud of thinkcloudly team.

Therence Moussavou Moussavou


I am presently having my class (AWS Solution Architect) with Thinkcloudly, and it's a wonderful decision having to know them out of tens of training companies online... My Teacher right... read more now, Bisma teaches like no other.... She is so good in what she does.... They even side attractions trainings on how to build LinkedIn profile and some other IT packages.... Thinkcloudly is the real deal... Thinkcloudly rocks....

akintayo fatunwase


In some cases we all wish to gain some form of knowledge in certain field, which may lead to a career or a way to improve on one's self.... read more However, a trusted and reliable source of acquiring the knowledge maybe a challenge. That was my situation few weeks ago.
I started a course at Thinkcloudyly with very little knowledge about computing but within few weeks of the training my knowledge is broaden with the help of committed teachers as I was taken from the basics of computing.. I'm recommending Thinkcloudyly for a superior learning experience.

akintunde oyeyiga


This is a learning platform I cherish very much. It only gets better and better as new features and courses on the trending tech are on point. Sessions... read more are live and teachers don't only teach me in class but are open for follow up. I have access to recorded sessions for self-pace learning. I confidently buzz 5 golden stars as an expression of my satisfaction for the affordability, support and knowledge I have acquired so far.

Aurelie Destiny Martin


I want to give 6 stars to Naman. He teaches such a way even a 6th 7th class kid learn Aws properly. He is so humble and make concepts clear... read more in depth. I really appreciate him and recommend Thinkcloudly. I grateful that I could such an instructor who has plethora of knowledge and can teach with lot of enthusiasm and dedication. Thankyou Naman and whole team of Thinkcloudly.

Baljinder Kaur


At first I thought it was not real. But the teacher told me that they are a genuine organization. I made a payment of 75$ and I realized... read more that I made the great choice I have ever made . Today, I'm happy with the learning experience and recommend THINKCLOUDLY to everyone who is willing to further is knowledge in the IT field.

mohamed rim


You can't believe something and know it…. But you can believe in Thinkcloudly because they know it. With Great instructors like (Naman).

Francis OnyeNwoko


Think Cloud has the best training resources for someone coming from Non Tech background to get experienced.

Dennis Emmanuel Gyimah


I have been trained in Azure Architect Course and successfully completed the full Online training. The course contents are really good and well structured. I had a great experience with... read more ThinkCloudly and would highly recommend it to anyone. They are supported 24x7. It's really awesome.

Also, there is a Self Paced Lectures and recorded video session of class, if we are not able to attend any class, you can easily learn from it. Thank You ThinkCloudly

christina allen


I have done the online classroom program on AWS Devops Certification Training Course. It was a great learning experience with ThinkCloudly. The course content is well maintained with current industry... read more practice.
This is the best online AWS Devops course available. I highly recommend one to take the course.

Prachi Sharma


ThinkCloudly has been my default choice, giving me the opportunity to upskill myself in AWS & Azure cloud. What I like about it is that the content is refreshed and... read more enriched continuously to keep up with the new developments. I feel part of their community and am enjoying the ride.

alice watts

I am presently having my class (AWS Solution Architect) with Thinkcloudly, and it's a wonderful decision having to know them out of tens of training companies online... My Teacher right... read more now, Bisma teaches like no other.... She is so good in what she does.... They even side attractions trainings on how to build LinkedIn profile and some other IT packages.... Thinkcloudly is the real deal... Thinkcloudly rocks....

akintayo fatunwase


This is a learning platform I cherish very much. It only gets better and better as new features and courses on the trending tech are on point. Sessions... read more are live and teachers don't only teach me in class but are open for follow up. I have access to recorded sessions for self-pace learning. I confidently buzz 5 golden stars as an expression of my satisfaction for the affordability, support and knowledge I have acquired so far.

Aurelie Destiny Martin


Thinkcloudly na Baba...They made get my ever first IT real job, i got no IT background , yet i got a job with one of biggest IT firm in the... read more world....

Odunayo K Olusola


In some cases we all wish to gain some form of knowledge in certain field, which may lead to a career or a way to improve on one's self.... read more However, a trusted and reliable source of acquiring the knowledge maybe a challenge. That was my situation few weeks ago.
I started a course at Thinkcloudyly with very little knowledge about computing but within few weeks of the training my knowledge is broaden with the help of committed teachers as I was taken from the basics of computing.. I'm recommending Thinkcloudyly for a superior learning experience.

akintunde oyeyiga


Iam presently taking class with thinkcloudly and lam so impressed by their teaching and professionalism, the team is so amazing and l do not regret my choice. As a new... read more solution architect student lam so proud of thinkcloudly team.

Therence Moussavou Moussavou


You can't believe something and know it…. But you can believe in Thinkcloudly because they know it. With Great instructors like (Naman).

Francis OnyeNwoko


I have done the online classroom program on AWS Devops Certification Training Course. It was a great learning experience with ThinkCloudly. The course content is well maintained with current industry... read more practice.
This is the best online AWS Devops course available. I highly recommend one to take the course.

Prachi Sharma


ThinkCloudly has been my default choice, giving me the opportunity to upskill myself in AWS & Azure cloud. What I like about it is that the content is refreshed and... read more enriched continuously to keep up with the new developments. I feel part of their community and am enjoying the ride.

alice watts


I have been trained in Azure Architect Course and successfully completed the full Online training. The course contents are really good and well structured. I had a great experience with... read more ThinkCloudly and would highly recommend it to anyone. They are supported 24x7. It's really awesome.

Also, there is a Self Paced Lectures and recorded video session of class, if we are not able to attend any class, you can easily learn from it. Thank You ThinkCloudly

christina allen


I want to give 6 stars to Naman. He teaches such a way even a 6th 7th class kid learn Aws properly. He is so humble and make concepts clear... read more in depth. I really appreciate him and recommend Thinkcloudly. I grateful that I could such an instructor who has plethora of knowledge and can teach with lot of enthusiasm and dedication. Thankyou Naman and whole team of Thinkcloudly.

Baljinder Kaur

Frequently Asked Questions (FAQs)