Saving time while also saving money is like putting butter on bread because time is one of the most valuable commodities in today's world. You got served in the same way as Amazon FSx. Thanks to it, you may handle your file system more effectively and in less time.
Streamlining File Storage with AWS FSx: Managed and Scalable Solution
Amazon FSx is a managed file storage service provided by Amazon Web Services (AWS). With AWS FSx, users can easily set up and deploy highly available and scalable file systems that are compatible with Windows and Lustre. AWS FSx takes care of the underlying infrastructure, eliminating the need for manual administrative tasks. Organizations can leverage FSx to efficiently store and access their data while benefiting from features like data deduplication, automated backups, and data replication. By integrating with other AWS services, FSx enables seamless data transfer and processing, enhancing overall performance and productivity. Whether it's for business applications or data-intensive workloads, AWS FSx offers a reliable and user-friendly solution for managing file storage, ensuring data integrity, and achieving robust data accessibility within the AWS cloud environment.
What Is Amazon FSx
With just a few clicks, AWS FSx makes managing file systems in the cloud simple and effective and aids you to a greater degree with accessibility, scalability, and security for your corporation. In essence, FSx offers exceptional performance at a cheaper total cost of ownership (TCO). It allows you to scale your business while simultaneously saving time and money.
Four popular file systems are available: NetApp ONTAP, OpenZFS, Windows File Server, and Lustre.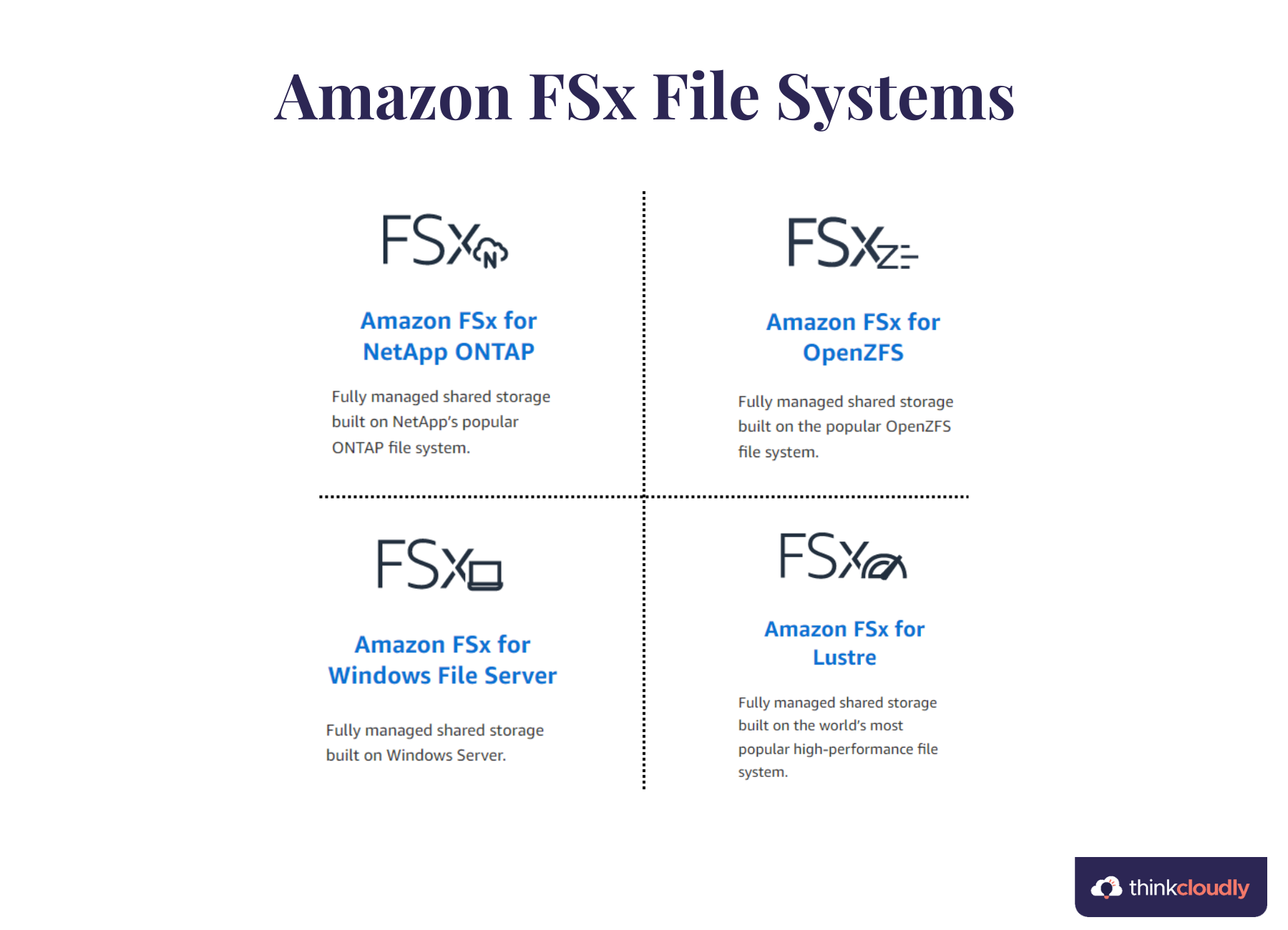 Benefits Of Using FSx
We get a lot of perks for using FSx.
Completely Manageable: A comprehensive, controllable, and highly effective file management service is offered by AWS FSx. It provides software and user connectivity to Windows, Linux, and Mac users. It offers you a high degree of performance with extremely little latency, which helps you take your business to the next level.
High Availability: It automatically replicates your data inside or across AWS Availability Zones to protect it from component failure, continuously checks for hardware faults, and switches to a standby file server in the case of a failure to ensure high availability and durability.
Protection: It enables you to replicate your file systems across AWS Regions to satisfy your data protection needs. It also connects with AWS Backup for centralized backup administration and higher levels of compliance. For increased security, it uses AWS Key Management Service (AWS KMS) to encrypt your data automatically while in transit and at rest.
Cost Effective: As with all other services of Amazon, it provides you the option of paying for what you use. Amazon is known for customization in its services and stands on the same promises in FSx. It provides you the options for SSD and HDD to scale as per your requirements.
Enabling Hybrid Feature: AWS FSx allows you to play with your data. You can make your data accessible to all the AWS services at a very low latency all over the locations.
Build Your Career as a
AWS Solution Architect
Boost your earning potential with AWS expertise. Explore our certified AWS Courses for a high-paying career
Use Case Of Amazon FSx
Switch To Cloud: AWS FSx makes it simple to adopt the agility and scalability of cloud storage for file sharing, database, and application workloads by providing the same like-for-like capabilities and performance without affecting your application code or how you manage your data.
Boost Your Media Workloads: Many businesses rely on the file system features and administrative capabilities provided by their current on-premises storage systems. By offering the same like-for-like features and performance, it makes it simple to adopt the agility and scalability of cloud storage for file sharing, database, and application workloads without impacting your application code or the way you manage your data.
Simplify Data Storage: It helps you to manage your data in a better manner. Collecting high-storage data over time is a big task to take care. AWS FSx helps to maintain those data, their backup, and usage.
Boost growth and assess agility: You can instantly build up development and test environments on demand and quickly iterate to minimize release cycles by combining infrastructure-as-code, flexible compute bursting, and storage. The development and testing of new applications can be accelerated and facilitated by the ability to reproduce your setup and resources using zero-capacity, cost-effective clones.
Key Points To Take Home
Amazon FSx makes managing file systems in the cloud easy and efficient. It helps your company's accessibility, scalability, and security to a greater extent.
Amazon FSx's most notable qualities include manageability, high availability, protection, cost-effectiveness, and hybrid nature.
Some common use cases include moving data to the cloud, increasing media workloads, streamlining data storage, and enhancing growth and access agility.
It can enable your company to go to a new level and free up your time so that it can scale, which will result in the exponential growth of your firm.
Read our more blogs on AWS and explore our training in AWS for better knowledge. See you in the upcoming blogs. Happily Thinkcloudly!